All All Golden Triangle Tours India
Golden Triangle Tour India
Golden Triangle circuit is one of the famous tourist circuits in India. It connects three iconic cities of India, namely Delhi, Agra, and Jaipur. These cities form a triangular shape on the map, and due to this reason, this circuit is famous as the Golden Triangle Tour India. This versatile circuit is adorned with marvelous edifices, and this India Golden Triangle Tour is an excellent option for those who visit India for the first time. This Golden Triangle Tour India is the perfect way to get a glimpse of the rich culture and traditional heritage of the country. During this Golden Triangle Tour, the tourists will get an opportunity to admire the majestic beauty of one of the Seven Wonders of the World i.e Taj Mahal as well as several other UNESCO World Heritage Sites, shopping at the renowned places, and bask in the enchanting glory of the bygone era.
The India Golden Triangle Tour trip usually starts from the national capital, Delhi, and then moving south towards Agra, and ends in Jaipur. It takes around 4 to 5 hours to reach from one city to another by road. The major highlight of the Golden Triangle Tour India trip is the Sunrise Tour of Taj Mahal and the Pink City of Jaipur. This city comprises some of the majestic forts and palaces which depict the Rajputana glory at its best. The popular sightseeing places of Jaipur which you will cover during the Golden Triangle tour are City Palace, Amber Fort, Jantar Mantar, etc.
The minimum time required for the Golden Triangle tour in India is 3 days, whereas 6 days are the ideal duration for the tour. During the 6 days Golden Triangle tour India, you will get an opportunity to spend 2 days at each destination and you will be able to explore all three cities as well as unwind yourself in Indian hospitality.  However, during the 3 days Golden Triangle tour, you will spend one day at each destination and will be able to enjoy the Taj Mahal Sunrise Tour and the city of Jaipur within a limited time frame. You can also choose between a 5 days Golden Triangle tour and 4 days Golden Triangle tour India.
This Golden Triangle Tour is the most popular tour of India, covering all 3 important cities i.e Delhi, Agra, and Jaipur. During the tour, tourists can get a glimpse into the legends and history of India and learn about the fascinating culture of the country and blend in luxury and comfort.
Travel with us and take back memories that last a lifetime.
Some Good Reasons to choose us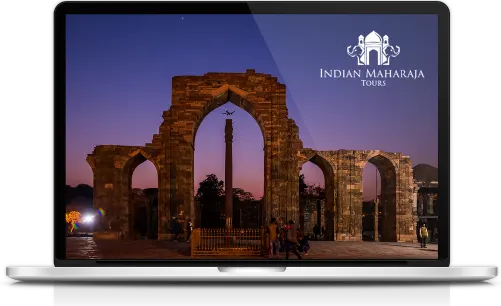 Get started
with Indian Maharaja
Its Easy to Book a tour with us in simple 3 steps.
Select your preferred tours
Provide Details
Click Book