About Indian Maharaja Tours
Indian Maharaja Tours is founded in 2011 by Harsh and Arti, a dynamic duo with a deep passion for travel, culture, and photography. Specializing in cultural tours and photography tours in India, Indian Maharaja Tours offers unique and immersive experiences for travelers seeking to explore the rich heritage and diverse landscapes of India.
With their extensive knowledge and expertise, Harsh and Arti have crafted meticulously planned itineraries that showcase the essence of India's cultural tapestry. They understand the importance of providing authentic and memorable experiences, ensuring that each tour captures the true spirit of the destinations visited. 
Cultural tours offered by Indian Maharaja Tours delve into the heart of India's history, traditions, and customs. Indian Maharaja Tours specialized in Taj Mahal tours, Golden Triangle tours – the most famous tourist circuit of Delhi, Agra, and Jaipur and Rajasthan tour packages. These tours provide a deep understanding of India's diverse cultural heritage, allowing visitors to witness colorful festivals, interact with local communities, and indulge in traditional cuisine.
In addition to cultural tours, Indian Maharaja Tours specializes in photography tours, catering to enthusiasts and professionals alike. Harsh and Arti, being seasoned travel photographers, understand the nuances of capturing the perfect shot. Photography tours offered by the agency provide unique opportunities to explore India's picturesque landscapes, vibrant markets, bustling streets, and ancient monuments through a photographer's lens. Whether it's capturing the vibrant colors of the Holi festival, the majestic wildlife in national parks, or the architectural marvels of Rajasthan, these tours are designed to unleash the creativity of photographers and enhance their skills.
Their specialization extends beyond this, the off-beaten paths of India – they organize wildlife tours, and photography tours all over India, Sri Lanka, Vietnam, Cambodia, and Thailand. In India, they are leading tribal tours to the remotest parts of India, Equine photography tours, Kumbh Mela, Pushkar fair, Leh Ladakh photo tours, and street photography tours.  
Harsh and Arti's commitment to providing exceptional service and personalized attention sets Indian Maharaja Tours apart. Their in-depth knowledge of India's diverse regions, coupled with their genuine love for travel and exploration, allows them to curate experiences that go beyond the ordinary. From organizing logistics and accommodations to providing local insights and ensuring the safety and comfort of travelers, the team at Indian Maharaja Tours goes the extra mile to create unforgettable journeys.
With their passion, expertise, and dedication, Harsh and Arti have established Indian Maharaja Tours as a leading name in the travel industry. Their goal is to share the beauty and richness of India with travelers from around the world, leaving them with lifelong memories and a deep appreciation for the country's cultural heritage.
Our Founders - Harsh and Arti
Our founder Harsh Agarwal at heart is an explorer whose love for exploring India is reflected in his professional photography for which he has won prestigious awards such as –
I-click Photography award bagged 1st prize in Street photography, 2016.
 His work has also been recognized around the world through various publications and exhibitions.
In 2015 he got special recognition with his Photo Review by Uttar Pradesh Tourism – of "People performing Namaz in Tajmahal" and published in well-known magazines like Asian Photography, etc.
IMT is his brainchild, and the idea of this tourism setup was conceived in his mind in 2006, while he was backpacking in Pushkar.
After extensively traveling across the country, he decided he needs to share this limitless ocean of culture and history by offering inbound culture and photography tours to outside India clients who share his passion for exploration.
His resolution to succeed has been further fortified by his wife Mrs. Arti Agrawal, who started off as a Spanish-speaking tour leader and now they lead their expeditions together.
Together they have traveled to Ladakh to shoot galaxies, walked in the narrow alleyways of Varanasi and Jodhpur, witnessed the Kumbh Mela in 2016 and 2019 – all while capturing award-winning pictures, with the pictures of the Nagas from the Kumbh Mela gaining widespread attention.
The gypsies and the camels of the Pushkar region, a region where Harsh has led photography tours since 2012, have now become their friends. Harsh and Arti have also experienced the joys of traveling and capturing the lives of the tribes of Vietnam.
In 2019, Harsh and Arti did a Sri Lanka scouting trip for a cultural tour and photography workshops with elephants, in partnership with US-based award-winning Photographer- Mr. Oliver Klink.
Harsh has always been passionate about photography, and Arti was his trusted companion who assisted him in many of his shoots. As time went on, Arti developed her own interest in travel photography and started creating captivating travel videos. They both found immense joy in their nomadic lifestyle and realized they wanted to explore new destinations while helping other adventurous travelers experience these exotic places with the same passion and enthusiasm they had.
The idea for Photography Tours in India was born from Harsh and Arti's shared vision. They began meticulously planning scouting trips, this time with a more intense focus. For over two months, they traveled through Vietnam and Cambodia, exploring new possibilities for photographers. During this time, they embarked on exciting adventures, including:
A two-month biking expedition in Ladakh, where they braved temperatures below 10 degrees to capture stunning shots of the starry Milky Way nights. Staying in ancient monasteries became one of the highlights of their Ladakh tour.
A memorable 10-day immersion with gypsies in Pushkar, which remains their longest stay in one place to date.
A 15-day journey across the tiger reserves of northern and central India, including Ranthambore, Bandhavgarh, Kanha, Tadoba, and Pench. They ventured deep into the wilderness, capturing the majestic beauty of these magnificent creatures.
A month-long scouting trip in Sri Lanka, where they focused on wildlife photography and conducted workshops with elephants.
A month of exploration in the northeastern part of India, covering Nagaland, Assam, Sikkim, and more. They delved into the local festivals, such as Aoling and Mopin, and spent time capturing the essence of the local tribes.
Two months of thrilling road trips in Rajasthan and Gujarat, searching for hidden gems among the local tribes and encountering remarkable horses along the way.
With their wealth of experience and expertise, Harsh and Arti began leading hand-crafted photography tours and collaborated on significant projects with renowned photographers. They expanded their tours beyond India to include destinations like Bhutan, Vietnam, Myanmar, Nepal, Sri Lanka, and Cambodia.
Their incredible travel stories and experiences soon became an inspiration among their friends, thanks in part to Harsh's knack for storytelling and boasting about their adventures! What initially started as a way to have fun and enjoy life gradually took on a greater purpose.
However, their journey experienced an unexpected pause due to the Covid-19 lockdown. In March 2020, while leading tours, international flights were canceled, and tourist visas were revoked. Prioritizing the safety of their respective groups, Harsh and Arti ensured that everyone returned home safely. During the lockdown, they shifted their focus to the welfare of animals in their hometown of Agra, famously known as the City of Taj Mahal. Stray animals, heavily dependent on local restaurants and street food, were the most affected. Harsh and Arti took it upon themselves to feed over 350 dogs and 25+ stray cows during this challenging period. Their dedication to animal welfare during the lockdown exemplified their commitment to making a positive impact.
Once travel restrictions were lifted in India, this adventurous duo wasted no time in exploring the countryside and new locations while strictly adhering to Covid-19 protocols. Some of their notable expeditions included:
A month-long road trip through central India, focusing on both tiger conservation and interactions with local tribes. They took the road less traveled, capturing incredible shots and producing captivating travel videos of India's indigenous communities.
A two-month road trip exploring unexplored regions of Rajasthan. They shared laughter and stories over cups of tea with the Bishnois and Rabaris (nomadic shepherds) under the starry desert sky. During this trip, they seized the opportunity to capture the Geminid Meteor Shower in December 2020 amidst the vast Thar desert of Jaisalmer at 1 am.
A month-long professional shoot assignment featuring the famous and exquisite Marwari horses of Rajasthan, providing them the chance to experience the warm hospitality of rural royal families.
A one-week project focused on the Kankrej cows and their nomadic Rabari shepherds in Rajasthan and Gujarat.
A series of birding tours in the Himalayan region, including a one-month stay at the foothills of the Great Himalayan National Park, recognized as a UNESCO World Heritage Site.
To stay updated on their upcoming tours and adventures, interested individuals can follow Harsh and Arti on their Instagram profile, where they share stunning photographs from their tours. They also offer a mailing list for those who wish to receive updates on their photography tours in India.
Harsh and Arti's unwavering passion, combined with their dedication to exploring new destinations, capturing extraordinary moments, and making a positive impact, continues to inspire both aspiring photographers and travel enthusiasts alike.
Ever since we thought of The Indian Maharaja Tours in 2011, we have focused on providing a platform for travel enthusiasts from all economic backgrounds to explore the real India in the most authentic way possible.
A company that was launched on the experience of traveling and exploring India for over 7 years, our specialists know the intricacies of exploring the diversity of Indian culture.
Our main office located in Agra, Uttar Pradesh, is led by a team of qualified professionals with each of our staff experiencing over 15 years in the tourism and hospitality industry.
With their eagerness to please our customers and our desire to present India's vibrant and bright culture in the best way possible, we have been able to establish our company as one of the leading providers of inbound photography and cultural tours in India.
Some of the most cherished IMT tours focusing on organized photography & cultural tours include –
Sunrise tour of Taj Mahal.
Tours to Biggest cattle fair of Pushkar, where you will find yourself witnessing bygone
medieval era.
Photography tours to unchartered and unexplored tribal lands of Gujrat and Orissa.
Unique photography tours to the mighty forts of Rajasthan.
Capture the forceful flight of wandering migratory birds in Bharatpur.
Heritage tour in the land of Shiva. Walkthrough the narrowest alleyways of Varanasi –India's oldest living city and experience a rare example of ancient civilization blending in with modernization.
Photography tours in Ladakh – the land of the Lamas, where the amazement of viewing the night sky of never-ending galaxies can only be compared to our dedication to making sure you explore all the hidden gems of India.
Unique walking and street photography at the old towns of Jodhpur. Visit the mighty fort Mehrangarh of Jodhpur and the only 'living fort' in the world in Jaisalmer which has over 2000 residents.
 Kumbh Mela – Explore the world's most ancient holy bash, God's very own retreat in the best way possible under our guidance and care.
Tribes of Vietnam and Thailand – Get up close with some of the rarest tribes of Vietnam and Thailand, exploring their unique and exciting way of life firsthand!
The architecture of Cambodia – Explore the rich blend of Western modernism with famous Cambodian motifs and old-style Southeast Asian construction styles while sightseeing under our expert guidance.
North East Tribes – Explore the rich culture and history of these century's old tribes with us.
Extensions to Jawai Leopard sanctuaries.
Experience the roars of great Indian tigers in the wild jungles of Ranthambore, Bandhavgarh, Panna National Park, Kanha Tiger Reserve, Pench National park for leopards and Tigers, Kaziranga National Park for Tigers, Elephants, and one-horned rhinoceroses under our expert guidance.
Wildlife Photography Tours to Srilanka as well for Leopards and wild elephants.
Equine photography tours- Marwari Horses of Rajasthan.
Why travel with Indian Maharaja Tours
Andrea Livingston
We had an incredible experience seeing the wonderful sights of Rajasthan with Indian Maharaja Tours. Harsh developed our tour using his expertise and experience with complete professionalism and tailored the tour to cater to our needs.
I would most certainly use this company again and have recommended them to others
Peter
Thank you sssooo sssooo much for all your help in our travels, and more for taking care of us from Chicago to here . We are so appreciative of your efforts and care, thank you so much!
Kids and us got to explore India with gusto and happiness! We will remember it forever!!!
Andrea Livingston
We had an incredible experience seeing the wonderful sights of Rajasthan with Indian Maharaja Tours. Harsh developed our tour using his expertise and experience with complete professionalism and tailored the tour to cater to our needs.
I would most certainly use this company again and have recommended them to others
Peter
Thank you sssooo sssooo much for all your help in our travels, and more for taking care of us from Chicago to here . We are so appreciative of your efforts and care, thank you so much!
Kids and us got to explore India with gusto and happiness! We will remember it forever!!!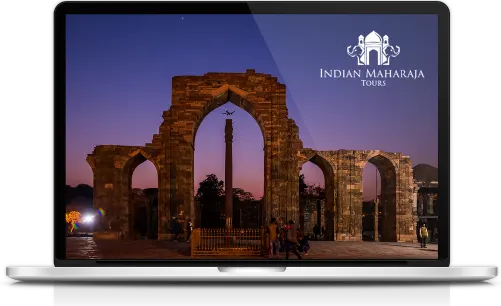 Get started
with Indian Maharaja
Its Easy to Book a tour with us in simple 3 steps.
Select your preferred tours
Provide Details
Click Book